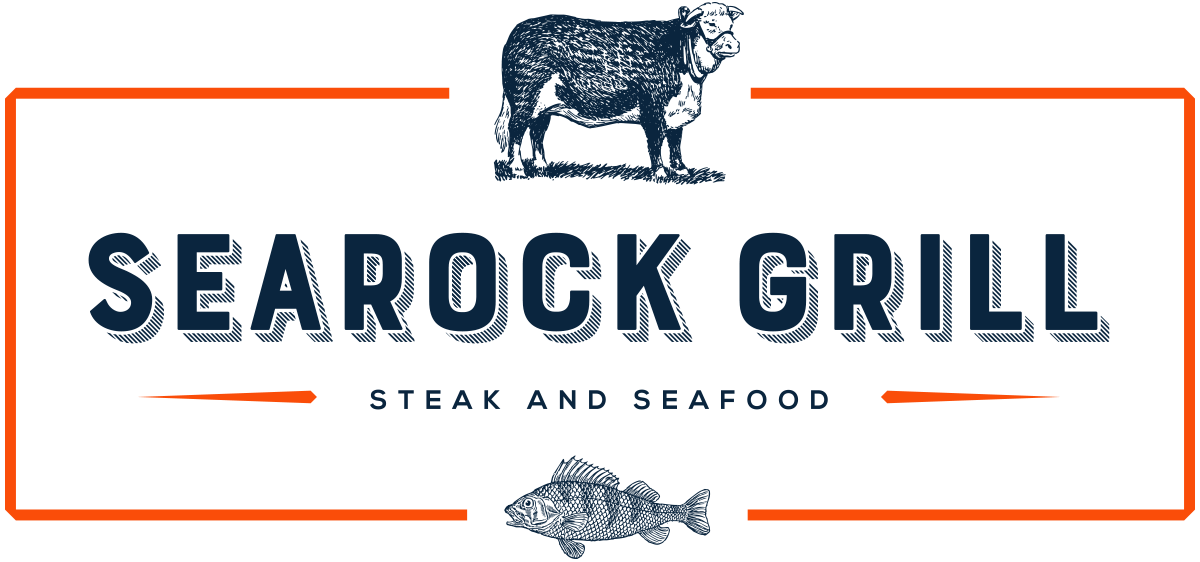 Steak and Seafood Dining, Harbourside, Circular Quay
Looking for a fresh, innovative and modern dining experience?
Searock Grill offers all this and more with the spectacular backdrop of Sydney Harbour. Searock Grill is the perfect place for lunch, and we're open late for dinner after your night out or show at the Sydney Opera House.
On weekends we offer a delicious breakfast menu, ideal for a relaxed morning down by the harbour.
Your Private Function at Searock Grill
Are you planning a private event or corporate function? Searock Grill never fails to impress with the finest steak and seafood, right next to amazing Sydney Harbour. Searock Grill is the perfect place to impress your guests. Boasting an array of indoor and outdoor seating, plus our exclusive private dining room, the wine room.
Searock Gift Card
Want to impress a special person with steak and seafood right next to the Harbour Bridge? Surprise them with a Searock Grill gift card. A delicious meal in a magnificent location is something they will always remember!
Allen Lane
05:34 31 Mar 20
As part of an Opera Australia package I choose Searock as it had a more extensive menu than the other two options; on arrival drinkers were quickly

...

served and orders taken. My lamb backstrap was very delicious and cooked to perfection and my dining companion had the seafood curry which was also very, very good. We were out in plenty of time to walk to the Opera House for an amazing rendition of Don Giovanni.

read more
tina mclendon
12:50 16 Mar 20
We visited the Searock Grill for a late lunch and with most of the outside tables taken we chose to sit inside, which had only one other table

...

occupied. Mrs FB2000 ordered 9 Oysters ( 36 AUD ) but unfortunately they were not served on ice, but rather on what looked like broken glass and may have been salt ? As a result, whilst the Oysters looked good, they were not served at the right temperature. Mrs FB2000 still wolfed them down though !

read more
Andrew McDonald
07:28 11 Mar 20
Great lunch options including the $19 steak and chips. Frosty cold beer and great scenery overlooking Sydney Harbor. Attentive friendly service.

...

Enjoyed my lunch here.

read more
Good. Wanna try some seafood dishes another time.바람이 너무 불어 밖에서 먹다 안으로 들어와서 뷰가 아쉽지만 그냥 저냥 맛있었습니다. 확실히 해산물요리가 더 나은가봐요
Raphael Krebs
08:42 27 Feb 20
Food was okay but not standing out. Main reason to eat here would be the view. Service seemed a bit overwhelmed at times. Two ladies to serve the

...

entire area. Ended up getting one of our starters just before the main.

read more
Lorraine Little
11:18 24 Feb 20
Dinner in the evening for four people, food was fantastic and service attentive and friendly. We also called back next day and they had happy hour

...

food and drinks, really enjoyed food and drinks. Puddings are scrumptious.

read more
음 저는 개인적으로 좋았어요!! 확실히 바다 앞이다 보니 고기보다는 해산물을 시키는게 좋을 것 같아요. 막 굴이랑 홍합이랑 게랑 새우랑 이거저거 나오는데 되게 신선하고 맛있어요! 특히 저는 원래 게 비린내 때문에 잘 못먹는데 여기는 비린내가 별루 안나더라구여ㅎㅎ

...

괜찮았어요!!

read more
savanah Estrada
20:58 17 Feb 20
Visiting from LA food was great view excellent. Restrooms needs a little attention . Portions are decent .Try oysters they are really good

...

,Needs more variety of beers. Try canguro burger while visiting. Good happy hours specials.

read more
Alex Kilkenny
20:16 17 Feb 20
Good place. Nice scenery providing a cruise ship isent blocking the bridge view. Good atmosphere too.The food was good, the drink was good. What's

...

not to like.....

read more
Tony Rogers
06:39 14 Feb 20
Food was great, very filling, staff were excellent, very nice outdoor seating. Busy but great places always are.
Rachael Moessis
20:20 08 Feb 20
I had a delicious meal there but not all my companions were as happy. Good location and good service.
Alex Brittan
02:57 04 Feb 20
Great view , perfect service . Lunch menu is full of perfectly cooked sensibly priced food . Steaks cooked to perfection, light and freshly made

...

sauces, fish and chips golden and fresh out of clean oil . Kids menu a winner too 😎🙏🏻✌🏽✌🏽Still getting my head around $12 beers though ❤️

read more
Yeonhee Park
08:17 25 Jan 20
오페라 라보엠 보러가는길 들린 레스토랑.굴 세개 ,빨간 퉁돔 구이하고 오징어 튀김 먹었는데 신선하네요. 친구 왈' 깔라마리아 소스 맛집! 이라함.ㅎㅎ 매콤한 소스네요
Basel Malko
07:47 03 Jan 20
I love this place...Lovley hostess...Fast food service even in rush lunch hour...The food was tasty...Finally friendly staff who's took the order

...

and helped us quickly...I recommend everyone to go there....

read more
Chris Mcardle
03:43 02 Jan 20
41/2 stars. Based this on slightly above average quantity of food for $19 lunch meal of fish and chips. For tourists you have to factor in views of

...

sydney harbour and bridge. Opera house just short walk away. With this in mind it's good value.

read more
John Harding
13:09 30 Dec 19
Nice place for oysters. But somehow we got the dishes mixed up and we got twice the oysters we ordered. But they were nice and well cooked. Some

...

plain and some with bacon and Worcestershire sauce. All xnt. Average beer prices. Nice waterfront location. Back from the Opera House frantic pace. A more relaxed setting.

read more
Such A Beautiful Setting,Complimented By Quality Food At Affordable Prices..The Staff Were Efficient,Informative And So Very Friendly...
피시앤칩스 맛있어요. 5시 이전에 가면 해피아워인데 피시앤칩스, 모히또랑 코스모폴리탄 포함 몇몇 칵테일, 버거, 굴이 반값이에요! 근데 야외테이블에서 먹으면 갈매기랑 나눠 먹어야 하니까 웬만하면 안으로 들어가세요....
Marianna Kim
21:34 12 Dec 19
1/2 priced oysters, burgers, and fish&chips plus house beers and wine ($25 per bottle) and $10 selected cocktails during the happy hour. Staff were

...

friendly and helpful. My friend loves Circular Quay area so it was a perfect afternoon catch up spot.

read more
Marie Chan
05:05 08 Dec 19
Vege burger is delicious with thick slice of chess and the fries are very crunchy. Steak and fries is also good. We finished everything.
andy zootie
20:27 28 Nov 19
was tasty although it did taste like the seafood was not prepared fresh rather maybe had been in the fridge since the day before, nice wine and view

...

of course and we enjoyed ourselves..so all round 4 stars (3 for the food)

read more
Perfect location with cosy ambience. It was the first Australian restaurant that I tried out and the kangaroos buger was exquisite. The staff were

...

accomodating and speedy.

read more
Great Location. But if you are dining outdoor, remember to protect your food from the seagulls who will never give up and let go.
Farida Loubardi
09:43 13 Nov 19
Très bon service qualité très bonne et les prix intéressants vue imprenable à refaire si j'ai le temps sans hésitation Bravo
스테이크랑 피쉬앤칩스 먹었어요~ 하버브릿지 야경도 보이고 분위기좋아용
Proxima One
07:01 04 Nov 19
Great location, happy hour 3 till 5pm weekdays. Great views of circular quay.Polite a friendly Staff.
Valeria Fantini
04:06 04 Nov 19
Mangiato bene. Costo proporzionato ai prezzi di Sydney. Meglio mangiare all'interno: i gabbiani sono aggressivi
sasurai albatross
10:58 03 Nov 19
オペラハウスの近くにありロケーションは非常に良いです。ランチも17ドルからあります。味は大味でしたが美味しかったです。
Perfect views of Circular Quay and the Harbour Bridge. Plenty of nice outdoor seating tables. Good menu to choose from, including lunch specials.

...

Variety of drinks available as well. Their chicken garden salad is very nice and served fresh. Their steak rump and chips are good as well and cooked perfectly medium as requested. Staff are nice and friendly with good customer service.

read more
Great customer service!! Food is served very quickly and the food tastes amazing!! Definitely recommend this place!
I'm highly recommend this restaurant. I couldn't stay here long time because almost close time when we arrived there, even an hour before close time

...

staffs are very kind especially the food was fantastic. Fish was very thick more than what i expected and soft everything was perfect. Im absolutely going to visit here again. Thanks to make wonderful time :) we ordered seafood basket and it was 29dollors 👍🏽평이 많이 갈리는데 저희가 갔을때 직원들 매우 친절했고 씨푸드바스켓 시켜서 잘 먹고 왔습니다 일단 음식이 너무 맛있고 음식 괜찮은지 물필요한지 등 스테프들 친절해서 더 좋았구요 하버뷰 이기 때문에 29불가격이 비싸다고 생각 안들었어요 가격도 적당했고 전체적으로 만족스러웠습니다 :) 피쉬앤칩스나 씨푸드바스켓 추천합니다👍🏽

read more
Rosanne Cameron
05:13 04 Oct 19
We highly recommend Searock food and service is exceptional , and the cricketer's lager the best. Of the 3 days we were in Sydney we had lunch and

...

"beverages" at Searock twice. Keep up the good work folks .

read more
음 안좋은 평가들이 조금 보이네요. 저는 개인적으로 잘 갔다왔습니다. 제가 갔을 때는 직원분들도 친절하셨습니다.저녁에 하버브릿지의 야경을 보면서 식사를 할 수는 있는 좋은 위치입니다만 음식의 맛은 훌륭한 수준까진 아닙니다. 캥거루를 한번쯤은 먹어봐야지 해서

...

주문했는데 호기심으로 드시는거 아니라면 그냥 안드셔도 될 것 같습니다. 일행이 주문한 피쉬앤칩스와 스테이크는 괜찮았습니다.

read more
Next Reviews
LOCATION
SEAROCK GRILL
Shop 15, 5 Macquarie Street
Opera Quays, East Circular Quay,
Sydney NSW 2000
DETAILS
OPENING HOURS
Monday – Friday
11am till late
Saturday – Sunday
8am till late
AMEX